Confessions of a Creataholic
This, apparently, is what the Official Award Certificate looks like.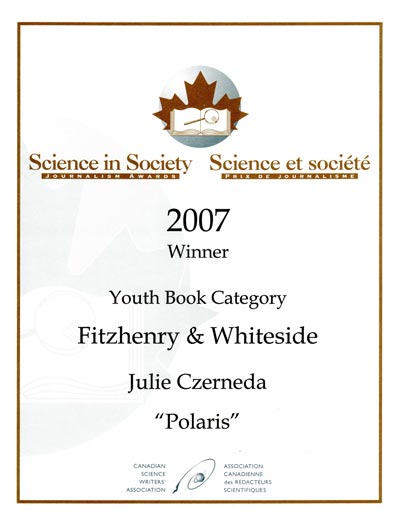 The anthology Polaris, has won a 2007 Canadian Science Writer's Association's Awards for Science Book for Youth.
I have now published a story in an award winning anthology. Yeehaw!
Polaris did not win an Aurora. This is not surprising: another anthology by the same editor, and put out by a bigger publishing company, was on the same ballot — and it won instead.
I would like to congratulate my editor, Julie E. Czerneda, on both wins.
(And congrats to all the other winners as well, of course — it's just that Julie is the only winner of either award that I actually know.) 🙂
Apparently, not only is Polaris (the anthology that contains my story "Frozen Witness") on the ballot for an Aurora, it has also been short listed for the Canadian Science Writers' Association Awards.
I remember being rather nervous about the fact that my story had to be vetted by a team of scientists before it could be published in this anthology. I guess this is what makes that extra bit of fingernail chewing worth it. 🙂