I had a bit of a slow week writing-wise, but I think I had a pretty good excuse. My husband had a vacation week and decided that it was long past time that the we did something about the last room in the house that still sported the all-white paint job done by the former owners. It was time, he declared, to redo our bedroom.
I figured just having the room that I live in torn up would be hard enough on me, so I told him, "go ahead, but you're on your own". However, after painting a very beautiful sky on the upper walls, he began working on the lower walls, and realized he didn't actually know what he wanted to achieve, and he didn't like what he'd done. He asked me for advice, and in the end I pretty much took over shading the bottom half (he'd already done three layers of sponging as a base).
This was the result.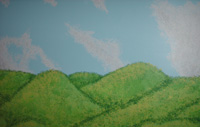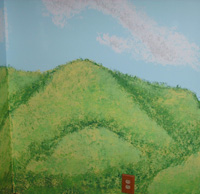 Click on the thumbnails to see larger versions of the images.
It's not a very big room, and most of what I did will be covered with furniture. So why bother? I dunno. So we will know its there, I guess. Boyd's sky, on the other hand, I will be seeing a lot of, as it not only covers the uppers walls, but the ceiling as well.