Ialfa
Today's Horoscope
The state of the skies on this day (day 231 of year 2988), as the sun waxes, is as follows: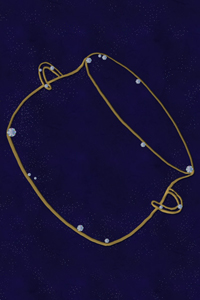 Asoer, Lord of Heaven, resides in the House of the Cauldron, so the realm of Shortages is in ascendence. Now is the time to attempt tasks that involve maintaining your possessions. Be certain to pay attention to situations where something has lessened or decreased, for these are an advantageous influence while the Cauldron rules the skies.
Nadal, the mother moon, waning gibbous, resides in the House of the Fish Trap. Tasks that require working alone will seem easier and more fulfilling, and opportunities to set aside current obligations will usually be a positive influence, but keep a watchful eye out for hidden flaws.
Munva, the moon bride, waxing half, resides in the House of the Sea Beast. The realm of Mystery will dominate your love and family life for good or for ill.
Bildhomor, the moon child, waning gibbous, resides in the House of the Fish Trap. Today you should seek out activities involving working alone for you will find much to be admired in them.
The sun child Ikhsior resides in the House of the Lobster. This means the realm of the Mundane currently dominates your life's direction. Watch for the influences of words of caution, and preparation, these may be particularly beneficial to your future while Ikhsior resides in the house of the Lobster.
Quote from
Velvet Lies
'You mean the man's own servants won't say who killed him because it wouldn't be polite?'
-- The Most Astute Zelli tos Renpli