Ialfa
Today's Horoscope
The state of the skies on this day (day 150 of year 2988), as the sun waxes, is as follows: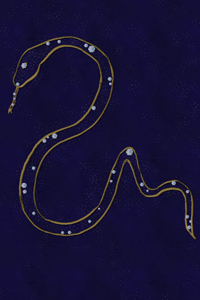 Asoer, Lord of Heaven, resides in the House of the Snake, so the realm of Puzzles is in ascendence. Now is the time to attempt tasks that involve concealment, or a lack of candor. Be certain to pay attention to mistakes that other people make, for these are an advantageous influence while the Snake rules the skies.
Nadal, the mother moon, waning crescent, resides in the House of the Leopard. Tasks that require agility, will have hidden difficulties and should be approached with caution, and potentially dangerous activities or actions, may not be as fortuitous as they seem.
Munva, the moon bride, in full glory, resides in the House of the Bear. The realm of Friendship rules your love and family life right now. Remember that the influence of those who are close to you on your relationships are a special benefit at this time.
Bildhomor, the moon child, waning half, resides in the House of the Antelope. Consider carefully before attending activities or events involving speed, for although some will delight, others will do nothing but annoy.
The sun child Ikhsior resides in the House of the Hunter. This means the realm of Difficulties currently dominates your life's direction. Watch for the influences of opportunities to advance or move forward, these may be particularly beneficial to your future while Ikhsior resides in the house of the Hunter.
Feedback on
Dark Moon Light
'It is a terrific piece -- original, well written, very exciting and with a superb main character.'
-- An Editor