Sometime earlier this week I was thinking about digital paperdolls. (I think it was something someone mentioned on livejournal friends list?) So I started poking around the web to see if there were any freely available paperdoll scripts running around, and I found a hosted one, and I set it up, and wasn't much impressed with it.
Sooooo….
I decided to build my own.
The Black Flag website now has a "Make Your Own Pirate" page in it's extra stuff. (Or, if you prefer, there's the even fancier "Pirate Colorizer" version.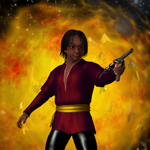 I don't know why I would want to have one. (It's not a paperdoll, it's an avatar builder!). But um, I did it all myself, and um…. it's kinda fun?